---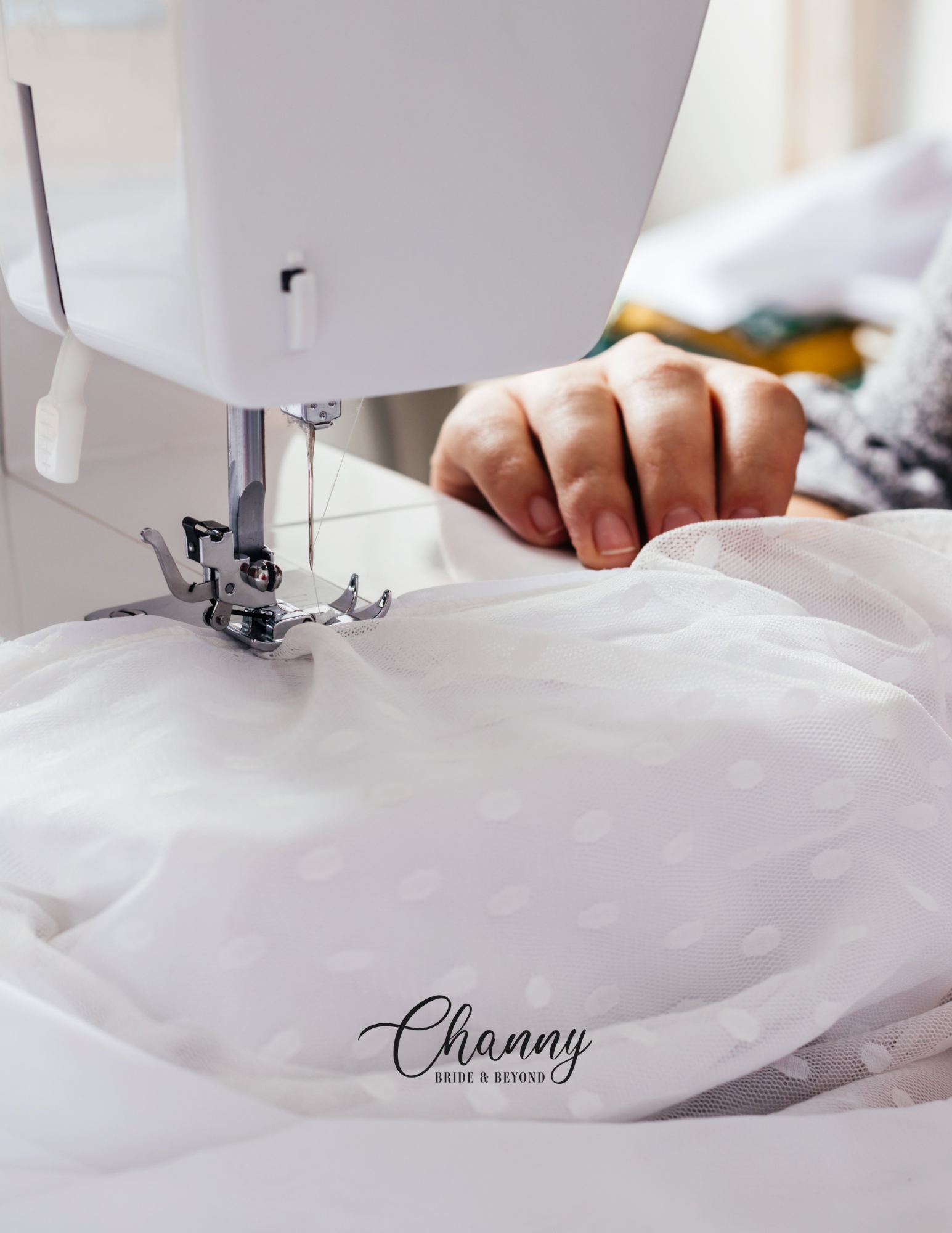 Have it converted into another something special:
You can have your wedding dress transformed into something new! From Baptismal gowns to holiday ornaments - Our bridal team is finding new + innovative ways to keep your gown alive. Our Seamstresses are very knowledgeable and will bring your idea to life and keep your wedding dress alive.
Wedding dress Alteration
The wedding dress alteration process involves making changes to the gown to ensure it fits perfectly and complements the bride's body shape and personal preferences. Here's a step-by-step guide to the wedding dress alteration process:
Schedule an initial consultation:
Start by scheduling an appointment with our seamstress. It's a good idea to do this a couple of months before the wedding, as wedding dress alterations can take time.
Bring your dress and accessories (if they're not in our storage already).
At your first appointment, bring any accessories you plan to wear on your wedding day, such as shoes, undergarments, and jewelry. These items can affect the way the dress fits.
Discuss your preferences:
Talk to the seamstress about the specific alterations you want. Common alterations include adjusting the length, taking in or letting out the dress, altering the neckline, changing the sleeve style, and adding or removing embellishments. Be clear about your vision for the dress.
Fitting:
You will have a fitting to assess the initial fit of the dress and discuss any changes that need to be made.
Pinning and marking:
During the fitting, the seamstress will pin and mark areas of the dress that need alteration. This may involve pinning the hem, taking in the bodice, adjusting the shoulders, or modifying other areas based on your needs.
Multiple fittings:
Depending on the complexity of the alterations, you may need several fittings to ensure the dress fits perfectly. These fittings allow the seamstress to make incremental adjustments and fine-tune the dress.
Lace and embellishment work:
If your dress features intricate lace or beading, the seamstress will pay special attention to preserving these details during the alteration process. Any lace that needs to be moved or adjusted will be carefully reattached.
Final fitting:
The final fitting is the last step in the alteration process. This fitting is to ensure that all adjustments have been made correctly and that the dress fits perfectly. You should wear the same undergarments and shoes you plan to wear on your wedding day to get an accurate fit.
Pressing and steaming:
After the dress is altered, it will be professionally pressed and steamed to ensure it looks pristine and free of wrinkles on your wedding day.
Pickup and storage:
Once the alterations are complete, you can pick up your wedding dress. It's a good idea to store it in a breathable garment bag in a safe place until your wedding day to prevent it from getting dirty or damaged.
---